From Kids for Kids, Volume One Drama Scripts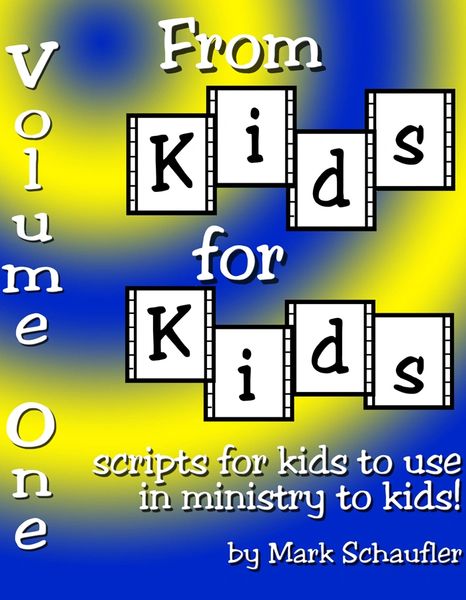 This Drama script book was written by Mark Schaufler in preparation for a kids camp he was speaking at. The kids would learn the drama during the day and present it at the services in the evening. They are short drama and could also be done by teens or adults for kids. 20 drama.
Here's one
My Dad is better than your Dad
Setting: A group of kids are talking about their dad.
Cast:
Kid One (K1)
Kid Two (K2)
Kid Three (K3)
Kid Four (K4)
Kid 5 (K5) -- has a ball and a bat
K1:
Yesterday my dad came home and said he is everyone's boss at work!
K2: Well my dad has always been everyone's boss.
K3: Well my dad works for himself and doesn't have to deal with anyone else.
K4:
Let's go play baseball.
K5: Yeah … I've got a ball and a bat.
K1:
What?
No way not until you tell us what your dad does.
K2: Yeah, you never talk about him
K4: Let's go play ball cause I have to be home pretty soon.
K5: Leave em alone, let's go play ball
K3: You afraid to tell us what your dad does?
K1: Yeah, is your dad a drunk or in jail or on America's Most Wanted?
(K1-3 all laugh)
K4: I got to go.
K5: I'll walk with you.
(They leave the other three behind as they head off still in hearing of the audience)
K5: My dad can be your dad.
K4: What? But … you don't have a dad … just like me.
K5: Well I got adopted.
K4: When … how … you still have a mom … I thought only orphans got adopted
K5: I know he would adopt you too.
K4: Really? How?
Platform
None of us have to compete for the best Dad because we can all have a Heavenly Father who is awesome.
For you did not receive a spirit that makes you a slave again to fear, but you received the Spirit of sonship. And by him we cry, "Abba, Father." The Spirit himself testifies with our spirit that we are God's children. Romans 8: 15-16
Though my father and mother forsake me, the LORD will receive me PS 27:10